A
lthough the 56 Chevrolet truck still has a few days of finishing work before the keys can be truly handed over to the owners, I've already been thinking about and lining up my own projects, as well as a special purchase that will help me move some of my mechanical skills into the 21st Century!
First, let's have a look at some things already in the E-tek compound:
Above: a 1971 Datsun 240Z on the rotisserie. This was originally purchased as the spare/parts car for E-tek Racing's IP2 effort that Mrs E-tek (Chili) raced out of Westwood in Vancouver, BC
Left: I pulled this Ford 390FE Engine from a 1967 Camper Special . It'll make up the base for a twin-turbo engine I'm building for our '67 Galaxie 500XL Convertible.

The Galaxie currently has a 390-2bbl which MAYBE maxes out 250HP. With a full rebuild, bumping the compression closer to 9.5, a dual plane intake, 4 barrel carb and a power-adder, I would hope to net something closer to 450, maybe even 500HP.
Out at the farm, my father-in-law has a 351Windsor engine just waiting to be saved, as well as this 38 Ford truck shell. Not really restoration material, it does however lend itself to a rodders dream effort.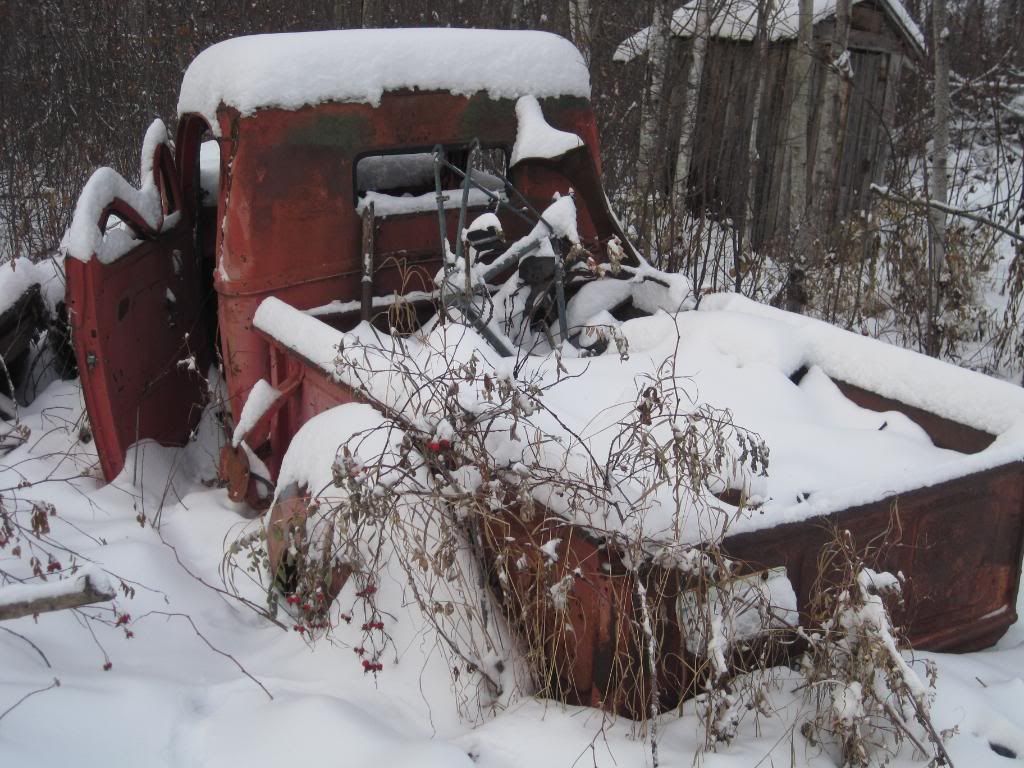 If the frame is solid we can use it, otherwise we'll just build a frame from 2x4 tubing and cut the shell down to look the part. Something along these lines. The term "Rat-Rod" is thrown around a lot, but well built examples aren't much different than the "rods" that graces the tracks and road ways of the 40's and 50's.
Lastly, and certainly way out of the box around here, I'll be picking up this 2003 Porsche Boxster S come spring. As much as I love classics, big engines and muscle, I also love the intricacies of driving, the technical highs of well-made 21st century marquees. I have always wanted to do some to hone my driving skills with racing and auto crossing and the Boxster S is a nimble, sure-footed and hard-braking example of German technocracy. As well, I'll be able to move m mechanical skills into the future by learning more about the newer hardware and software out there.
Of course, it won't hurt to have something that can compete with Mrs. E-tek's Mini Cooper, especially since she wants me to put in the smaller pulley kit that increases boost from her supercharger 17%!